Check out what's happening!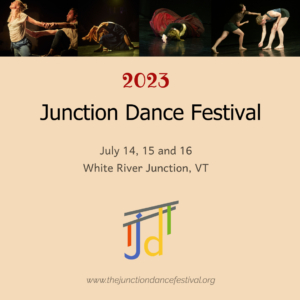 Call to artists !
Registration starts March 13th for artists applying for the festival – Application deadline:  May 5th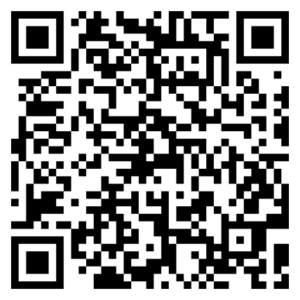 QR for the artist application form for the July 15th performances


2022 ChoreoLab Performance at The Barn in Corinth
July 15, 7 pm and 16, 3 pm
with artists Erin McNulty, Claire Cook and Zoey November, and guest artist Marie Fourcaut.
MASTER CLASS AT THE BARN IN CORINTH WITH RUTH CHILDS
SEPTEMBER 9TH, 2021, 6PM TO 9PM
Biography:
British-American dancer and performer Ruth Childs was born in 1984 in London. She grew up in Norwich, VT and was a valedictorian graduate of Hanover High School. She began her ballet and contemporary dance studies at the Lebanon Ballet School, Lebanon NH, while simultaneously taking violin classes.  In 2003 she moved to Geneva to finish her dance training with the Ballet Junior de Genève. Following this, she started working with many internationally known choreographers and directors including Foofwa d'Imobilité, La Ribot, Gilles Jobin, Massimo Furlan, Marco Berrettini and Yasmine Hugonnet.
More about Ruth
CHOREOLAB PERFORMANCE AND DANCE FILM, JULY 30TH, 2021, 7PM AT THE BARN IN CORINTH
ChoreoLab artist:Martina Lundstrom's solo piece " Dogs and Horses" .  Martina Lundström's performances address the ambivalence about being an artist while living off a trust fund. She challenges her inheritance of a power and privilege that has been beneficial to her. http://martinaludstrom.com
ChoreoLab artist: Mary Chris Debelina's "your eyes need tears to work correctly", with Ellis Broderick, Leila Faulstich, Anna Goodling and Elizabeth Kurylo. A choreographic work experimenting with light from generated by the dancers. http://debelindance.weebly.com
Passacaille de Persee, a short baroque dance created for Lully's opera "Persee" in the late 17th century; choreography of Guillaume-Louis Pecour. The passacaille is taught and adapted by Elizabeth Kurylo from the Beauchamp/ Feuillet notation, and will be performed by Ellis Broderick and Julie Frew.
Our Voices, Bodies Rising— the film– Beyond Suffrage Toward Women Empowerment, by Peggy Brightman–director and choreographers and Carla Kimball, filmmaker.
The Junction Dance Festival 2021 Summer Fundraiser, June 26th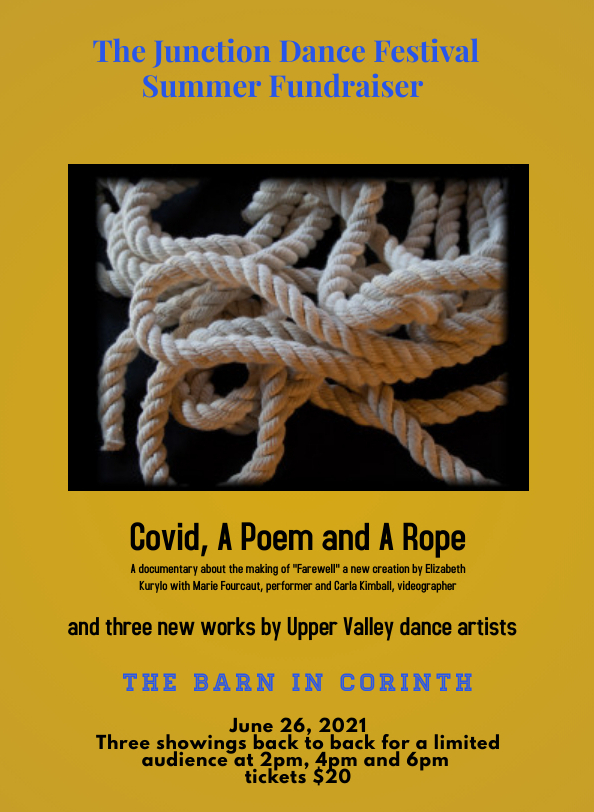 featured four Upper Valley dancers/choreographers and a documentary film about the profound transformation that operated within artists as they seek to adapt to the pandemic. Covid, a Poem and a Rope was made possible in part by a grant from the Vermont Arts Council and the Vermont Community Foundation.
Participating artists: Ellen Ahern Smith– dancer/choreographer with sculptures by Stefania Urist, Brigid and Molly Armbrust– dancers/choreographers, Marie Fourcaut–performing artist, Elizabeth Kurylo– choreographer and Carla Kimball– videographer.
A big cheer to the local businesses who donated prizes for the raffle:
The Colatina Exit, Bradford VT, the Crossmolina Farm, Corinth VT, Montview Vineyard, Corinth VT, Maven Hair Salon, Hanover NH, Flag Hill Farm, Vershire VT, Blue Sparrow Kitchen, Norwich VT and Hanover, NH, Revealed Presence, Norwich VT, the Swett family farm, Norwich,VT.
And special thanks to the Space on Main for the loan of 30 chairs!
Click here to add your own text