Check out what's happening!
Produced by The Junction dance festival and funded in part by the New England States Touring program of the New England Foundation for the Arts, made possible with funding from the National Endowment for the Arts Regional Touring Program and the six New England state arts agencies.
ChoreoLab Performances At The Barn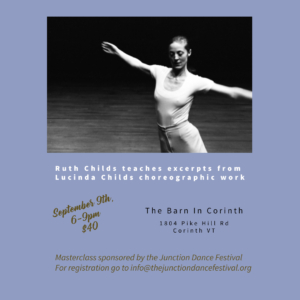 Master Class with Ruth Childs: the choreographic language of "Katema" by Choreographer Lucinda Childs
–The Film–
Funded in Part by a grant from the Vermont Arts Council and the Vermont Community Foundation
CHOREOLAB PERFORMANCE AND DANCE FILM, JULY 30TH, 2021, 7PM AT THE BARN IN CORINTH
The Junction Dance Festival 2021 Summer Fundraiser, June 26th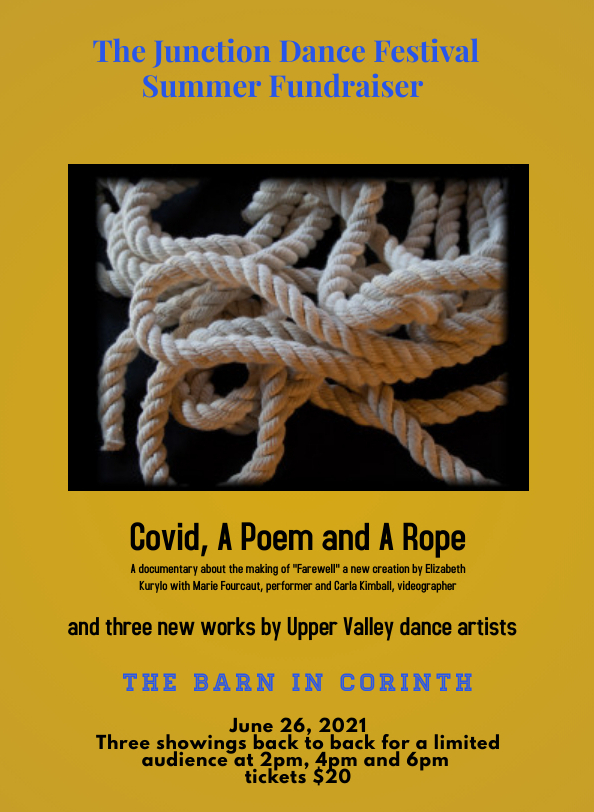 featured four Upper Valley dancers/choreographers and a documentary film about the profound transformation that operated within artists as they seek to adapt to the pandemic. Covid, a Poem and a Rope was made possible in part by a grant from the Vermont Arts Council and the Vermont Community Foundation.
Participating artists: Ellen Ahern Smith– dancer/choreographer with sculptures by Stefania Urist, Brigid and Molly Armbrust– dancers/choreographers, Marie Fourcaut–performing artist, Elizabeth Kurylo– choreographer and Carla Kimball– videographer.
A big cheer to the local businesses who donated prizes for the raffle:
The Colatina Exit, Bradford VT, the Crossmolina Farm, Corinth VT, Montview Vineyard, Corinth VT, Maven Hair Salon, Hanover NH, Flag Hill Farm, Vershire VT, Blue Sparrow Kitchen, Norwich VT and Hanover, NH, Revealed Presence, Norwich VT, the Swett family farm, Norwich,VT.
And special thanks to the Space on Main for the loan of 30 chairs!