The Junction Dance Festival
Dance is motion and motion is life. In every culture around the world dance is a mean of expressing identity and feelings and connect with others. Dance is the yeast that makes the bread rise. It is the essential ingredient in all celebrations of joyful life events.  We love dancing and we invite you to join in!
There will be no festival scheduled again this summer. Rendez-vous next summer for the 2022 Junction Dance Festival!
Summer Fundraiser June 26th 2021, at the Barn in Corinth, go to the Event page for details and tickets
Covid, A Poem and A Rope was made possible in part with a grant from the Vermont Arts Council and the Vermont Community Foundation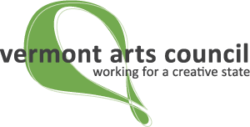 Creation of the ChoreoLab at The Barn
The ChoreoLab is a brand new program sponsored by The Junction Dance Festival, offering a unique opportunity for choreographers and dance artists to create and collaborate. For nine weeks, from June 1st to July 31st, five selected choreographers from Vermont and New Hampshire will have the privilege of using a professional dance studio to create their own dance project, at no charge.  Click the page link below for a full program description and application.
In partnership with: Vermont Dance Alliance • Briggs Opera House • The Space On Main
Emily Landecker Foundation