CHOREOLAB AT THE BARN
What is ChoreoLab?
The Junction Dance Festival, Inc., has created this program to financially assist choreographers/performers in their artistic career. Eligible participants are invited to use a well-equipped studio/performance space at no cost for two months in the spring. In addition the choreographers/performers will have the opportunity to perform their new work at the Briggs Opera House in White River Junction during The Junction Dance Festival summer event .
Participation:
The program is limited to five participants (a participant may apply as a group). Applicants  residing in Vermont or New Hampshire  or those who have strong connections to VT/NH (for example: having been raised, schooled or worked in the twin states) will have priority. However, if there are openings, candidates from neighboring states will be considered on a case by case basis. Candidates will be selected on the strength of their application and their time commitment.
The studio/performance space:
Located in Corinth, VT, the Barn was completely renovated in 2020. It is now a gorgeous, newly climate controlled dance studio with a professional floor, mirrors and barre. It has high ceilings and is free of structural barriers. Floor dimensions are 30' width x 25' depth. There is a separate entrance and a loft area for changing and for breaks. The space is well suited for small performances: it has professional lighting, audio and wireless internet.
Program:
The two month spring program is specifically designed for local artists.  Participants will be given a weekly time slot to use the studio through the duration of the program and for a minimum of three hours per day but not necessarily each day of the week. For example, participant A, who is working on a solo, may need the studio every Tuesday for 3 hours, while participant B, working with a group of dancers, may want to have more time and reserve the studio 4 hours on Mondays and Wednesdays. Saturdays and Sundays spots are available but will be reserved for special situations when participants are working during the week and can only be free on weekends, or for intensive sessions. Participants will be assigned a final schedule according to their choreographic needs. The studio is open from 10:00am to 9:00pm, daily. On certain conditions a short residency (up to three weeks), can be arranged. Please contact Elizabeth at info@thejunctiondancefestival.org for information on this option.
Conditions:
Choreographers/performers must create an original work (has not been seen before), and will have the opportunity to present their piece at the Barn and at Briggs Opera House during the summer festival. Choreographers must also be available for a mid-program work-in-progress showing.
Other considerations:
There is a $25 nonrefundable application fee.
You must be 16 years of age and be able to drive to apply or, be chaperoned by an adult.
Performers/dancers with limited experience or new to choreography are encouraged to apply. We can offer mentoring assistance from seasoned artists.
There are no lodging facilities on premises although tents are available for camping onsite. Nearby Airbnb rentals are also an option.
If accepted you agree to adhere to your appointed schedule, to be punctual and to respect the studio space and its environment.
If necessary COVID precautions will be implemented for the duration of the program.
The Junction Dance Festival does not discriminate on the basis of race, color, religion, gender, gender expression, age, national origin, disability, and sexual orientation. Artists from the BIPOC and non-binary community are welcome to apply.
For more information, please contact Elizabeth Kurylo at info@thejunctiondancefestival.org or call (802)439 9117.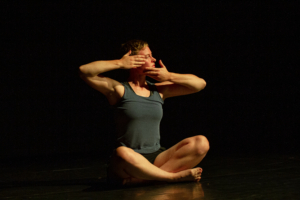 Claire Cook is an Upper Valley dancer and will be Chloe dance partner. This is her second ChoreoLab residency. Last spring she  worked collaboratively with Zoey November for the duet "To Care" which premiered at the 2022 Junction Dance Festival.  She also danced in Hannah Dennison production of the "The Quarry Project".
2022 ChoreoLab Performance Trailer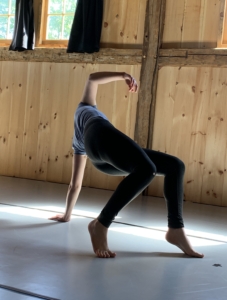 Claire Cook