The Vermont Dance Alliance is a public platform for dance in Vermont that shines a light on what is happening with dance throughout the state, as well as makes new opportunities come to life. Please visit the Vermont Dance Alliance website at www.vermontdance.org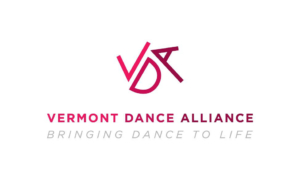 The Junction Dance Festival is being fiscally sponsored by the Vermont Dance Alliance, a nonprofit organization that "supports dance artists of all genres, educates the public, and brings high quality events to the community". The special fiscal relationship with the Vermont Dance Alliance allows you to make tax deductible contributions.
Please make your tax-deductible donations to the Vermont Dance Alliance, Inc., with reference to The Junction Dance Festival, written on the check.
Please send your contribution to:
The Junction Dance Festival
PO Box 605
Norwich, VT 05055
The following levels of support will be acknowledged in our festival programs:
Friends: up to $49
Contributors: $50 to $149
Benefactors: $150 to $299
Patrons: $300 to $499
Program Sponsors: $500 to $749
Champions: $750 and up